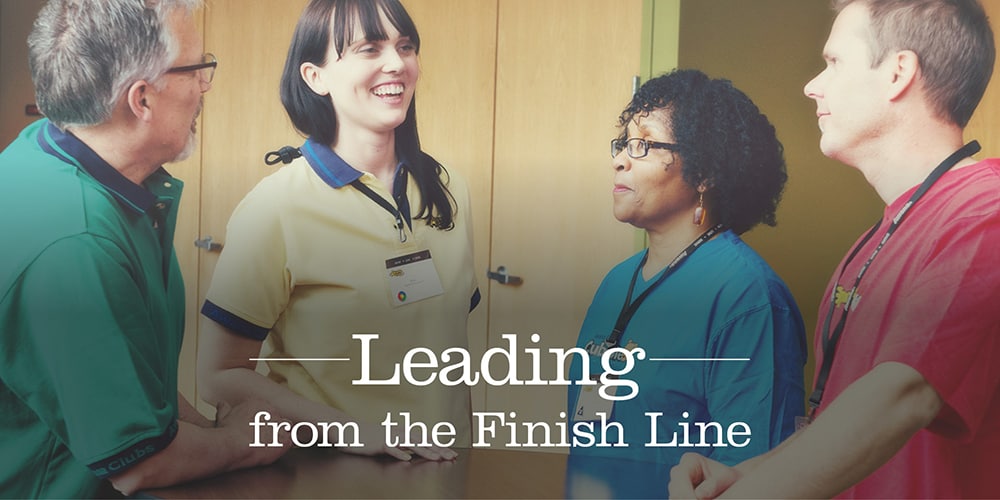 Leading from the Finish Line
In the next several weeks, if not already, Awana clubs will be kicking off another season of ministry. Books are on their way. A stocked game room awaits the sounds, laughter, and energy of children and youth. Godsent generational guardians have filled essential positions and stand ready to share the Gospel and engage children and youth in discipleship. Leadership teams continue to meet to prepare for to the joy that awaits them. The joy of making disciples.
Let's fast forward a little bit. Think about eight to nine months from now. Think about closing ceremonies or awards night. Think about the leader appreciation celebration. It seems odd at times to think about the party at the beginning of the journey rather than the end. Have your teams ever thought or imagined what you might be celebrating in the next couple of months? How might envisioning the end at the beginning help to inform your "how" week after week as you enter into another ministry season?
Think about it. You're about the welcome anywhere from a handful to hundreds of children and youth, and each of them is precious to God. Each one has a unique God-crafted story, and you get the privilege of partnering with God in His plan to reach that child with love, grace, compassion, and truth. Such a wonderfully high calling demands that we spend some time thinking about the end. That we prayerfully consider the weeks of ministry that lie ahead. Consider the following as you meet with your leadership team over the course of the next few weeks. Think about how you want to celebrate a few months from now and how the faithfulness of God's people and the collision with His Spirit work together to make that happen?
Commit to praying weekly for every kid or youth entrusted to your discipleship influence. Want to see big things happen several months from now? It's not always about the shock and awe or some grand gesture in the final moments. It's the simple, consistent discipline of bringing those that you love before the Father in prayer.
The words of the leader are an incubator for long-term growth. The words of a leader also have tremendous power and influence. Your kids and students will know if you're winging it from week-to-week. Don't do it! Right from the beginning set the stage with your expectations for the next several months. Also, consider sharing with your group how excited you are to grow together with them. Your words and even the unspoken ones have a high degree of power and influence as a leader. No matter what you celebrate at the end of this year, your kids and students will always take your words with them.
Win small victories to celebrate big at the end. A small win is knowing your kids and students' names by the following week. It might not seem like anything to pass out an award for, but to your kids and students, you need to know that the sweetest thing in any language is hearing someone's name spoken by someone that cares. Look for those small wins. Learn their names, likes, dislikes, and build the bridges that help grow deep-rooted relationships from the beginning.
A leader without goals is a highly motivated wanderer. Where are we going? Your kids and students ask this every single week and don't expect them to say it out loud. Make sure that you spend time each week reaffirming or explaining the "why" behind the "what" and "how." Don't just assume since they have been coming to Awana since they were Cubbies or Sparks that they fully understand the spiritual practice of Scripture memory, Bible engagement, or discussions during small group time. Take them back to the basics. Explain it again or ask some of your kids or students to explain it to the group. Where are we going? Why does this matter? How does this make a difference? It's the job of any leader to answer these questions whether you're leading adults or children and youth. It doesn't matter what you're celebrating if nobody understands "why."
What are you going to celebrate several months from now? You're not just volunteering for a program. You're not just a warm body in a room with a whistle and bag full of games. You're so much more! And God in His infinite wisdom has placed you and those kids and students together for this season. Begin the journey by thinking about how or what you want to celebrate several months from now. Your faithfulness will grow, and the results will be because of the glory of our Lord.