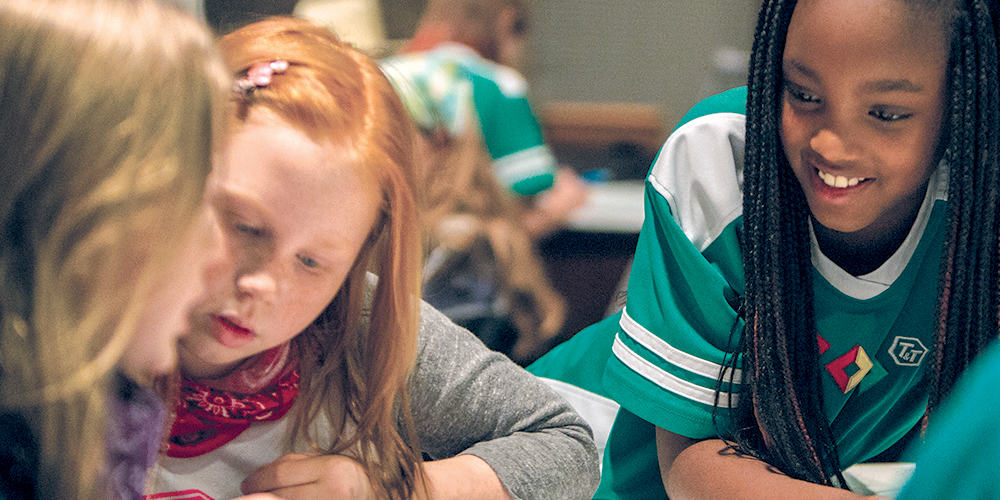 Maximizing the New T&T: 3 Simple and Significant Choices to Elevate Your Ministry's T&T Experience
I love Fall. It's a great time of year. Fall is filled with back-to-school shopping, as schools reopen their doors and classes begin. Fall sports have kicked off, and there's so much excitement about the season beginning.
As I reflect on this time of year, I am drawn back to a quote by my favorite NFL coach, Vince Lombardi. In When Pride Still Mattered: A Life of Vince Lombardi the author writes:
He took nothing for granted. He began a tradition of starting from scratch, assuming that the players were blank slates who carried over no knowledge from the year before… He began with the most elemental statement of all. "Gentlemen," he said, holding a pigskin in his right hand, "this is a football."
Now, this kind of statement can seem off-putting or even insulting to the mind of a professional. However, maximizing ministry happens best when we dig into the essential elements that drive discipleship forward. So, let's go back to basics and walk through three meaningful and straightforward choices that can help elevate your ministry's T&T experience this Fall.
Choice #1: Is it about a program? Or is it about relationships?
Kids can or will come because of a program, but they stay and desire to go back because of relationships.
T&T is simple in its format, but it also brings options for the leader to customize an excellent ministry experience. For instance, there are three typical divisions to a T&T club: Interaction/Game Time, Large Group Teaching, and Small Group Time. These three divisions are interchangeable: you can move them around to meet the needs of your group. More important than schedule, however, is what you do in and during these different components.
Game Time should be highly relational. Make sure your leaders are involved during game time and playing with your kids. When leaders play games with kids, relationships can blossom more dynamically than in an off-white colored room with brown metal folding chairs. Dig into their lives, play with them, and watch relationships flourish. Nobody should be holding up the wall. If your kids don't want to play, you're playing the wrong game. Ask your kids about their interests.
Use Large Group Time as an opportunity to inspire your kids. Introduce them to your church's pastoral or elder teams. The distance between your kids and the pulpit on Sunday is massive. Close that relational gap by making space for your kids to know the hearts and minds of their shepherds.
Finally, a Small Group is relational by design. The most important thing any child should or could hear on club night is that Jesus loves them, and we do too. It's not about a program. A program is a tool. The end result is what we run after. We want to see kids connected in relationships with caring adults, hearing the Gospel, and finding that life-altering relationship in Jesus Christ.
Choice #2: Is it about a checklist? Or is it about discipleship?
It takes 10,000 hours to become an expert at something. Jesus spent somewhere in the ballpark of 8,750 hours with his disciples over a three-year period of time. But over the three-to-four years of your T&T program, you will spend roughly one cumulative week with your kids.
That's one week to make disciples. Pause and consider that for a moment.
We need to stop steering the bulk of our conversations to discipleship methods, and instead focus more on the mission at hand: your kids need the Gospel. They need to know who God is. They need to understand the structure and sequence of the Bible. They need to dive deep into the person of Jesus Christ. They most desperately need to know how to apply God's Word to their lives in a culture that is continually changing shape.
That's why it's called Truth and Training. The primary purpose behind T&T is to continue the process of making disciples. It's not about the methods. It's about the Great Commission.
Choice #3: Is it about you? Or is it about your calling?
As a follower of Christ, I am called to be a servant, to take on the posture of one who spends his or her life in service to the King of Kings.
You too, are a servant, and your charge is to go and make disciples. A craftsman doesn't spend his or her life scrutinizing the tools at his or her disposal. Instead, he or she makes the most of every opportunity to create something new, beautiful, and awe-inspiring by picking the best tools and using his or her God-given skills or gifts to make something extraordinary.
The same is true about our calling. The T&T curriculum is a suite of tools ready and waiting for the master craftsmen of discipleship to wield for the glory of God's Kingdom. To maximize T&T, we must return to the place and posture of servants. It's not about us—it's all about God! It's not about what's comfortable—it's about what is necessary. It's not about our "likes"—it's about what pleases our King. It's not about what we "used" to do—it's about what we must do now.
When our kids see us in the position of a servant, denying ourselves and embracing our calling, it will help them step into this great God-story.
Would you let us know how it's going this year in your T&T club? We'd love to support you and pray for you and your leaders.
Remember: it's all about relationships, it's not about the method but the mission at hand, so lead like a servant!