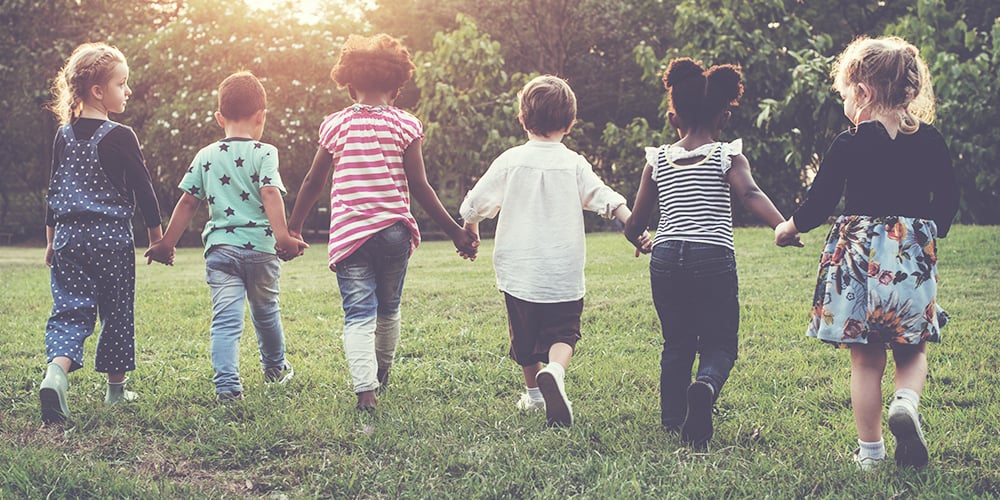 How to Talk (With Our Kids) About Racial Equality
Note: While Awana is a global ministry serving churches and leaders in over 100 countries around the world, this post is unique to the leaders and families we engage within the United States.
As my kids (finally) headed back to school after Christmas break, I glanced at the calendar to see what's coming up next. What caught my eye is the three-day weekend in January, honoring Martin Luther King Jr.
In the United States we set aside this time to honor the life, work, and death of Martin Luther King Jr., a Christian minister and activist who spent his life—literally—working towards racial equality. On this day we pronounce a sacred conviction: that all people are equal in the eyes of God, and together make up the imago Dei, the image of God.
I'm eager to use this holiday to talk with my kids about racial equality in the United States, but it's hard to know where to begin. One common starting point is King's most famous speech: I have a dream that my four little children will one day live in a nation where they will not be judged by the color of their skin, but by the content of their character.
But more than 50 years later, this dream has not been realized. The terrible truth is that racism is alive and well in the United States of America. All too often this evil takes the form of hate and violence, but more often racism is invisible, undergirding social inequalities all the way to our foundations. From income levels to education, to housing, to health care, to our justice system, whether you are white, brown, or black can significantly impact your access, power, and privilege.
This is where the conversation gets tricky—with my kids and with myself. Do I participate in crimes of hate and violence? I can't image I ever could. But do I passively benefit from unjust systems? I have to acknowledge that I do.
I reflected on these things during church on Sunday, as we stood to read Psalm 103:
Praise the Lord, my soul; all my inmost being, praise his holy name.
Praise the Lord, my soul, and forget not all his benefits—
who forgives all your sins and heals all your diseases,
who redeems your life from the pit and crowns you with love and compassion,
who satisfies your desires with good things so that your youth is renewed like the eagle's.
The Lord works righteousness and justice for all the oppressed. (vs 1-6)
It strikes me that God is praised for forgiving our sins and healing our diseases. These aren't small words or trite gestures; God doesn't merely overlook poor behavior with a loving chuckle. What the Psalmist describes is tangible, tactile, consuming.
The Lord works righteousness and justice for all the oppressed. Praise his holy name!
As you can see in my bio below, I write this as a white person. I can only speak—or teach my children—from my own experience (although I eagerly highlight other writers at the bottom of this article). But from where I sit I am confident of this: inequality is one of our collective diseases, one of the sins from which we need forgiveness and healing, the pit from which we need redemption.
Could the upcoming MLK weekend be a new beginning for your family or your church? Can the body of Christ talk honestly about differences and inequalities and take active steps to bring God's justice and healing? How can we bring our kids into the conversation?
Here are a few places we might begin:
Do Talk About It. We can't assume that children will automatically absorb the message that all people are made in the image of God and deserve our love and respect. And they certainly aren't born with a nuanced understanding of our culture's history and present inequalities. Children of all skin tones and cultural backgrounds will absorb the power of hateful attitudes, however, and our silence on the matter will leave them ill-equipped. Furthermore, children are themselves targets of racism, both directly and indirectly. Make your family or church a place where all children can ask respectful questions openly and receive a supportive, God-honoring answer. Don't "shush" questions or comments, but engage them, lest you accidentally send the message that racial differences are something to be ashamed of, or too dangerous to talk about.  In the end, we will remember not the words of our enemies, but the silence of our friends. (MLK)
Listen and Learn. My first and primary step is to listen, and that's what I want to teach my kids to do as well. When we listen to the stories of brothers and sisters with vastly different experiences, we develop the ability to see outside of our own lens. Listen with your children, and show them how to hear challenging information without becoming defensive or making themselves the centerpiece. I personally need to be constantly challenged to see my place in the world—and I need to show my children how to see this too.
Look Around. Are you mostly surrounded by people who look like you? What about your neighborhood, your kids' school, your church, or Awana club? What about the books you read, or the books you give your children? Expose your kids to stories and experiences of people from various cultures and backgrounds, and normalize the idea that different is part of God's beautiful plan. Visit multi-ethnic churches and rejoice in the diversity in the body of Christ.
If you live in a diverse region, make sure you're living inside diversity and not apart from it. Because my children's neighbors and classmates have different skin colors than our own, these conversations flow organically. My children are naturally prone to talk about these issues, to listen and learn, because they witness these dynamics on a daily basis—and because they love the people around them. They have skin in the game now (sorry, pun intended). We must learn to live together as brothers or perish together as fools. (MLK)
Define racism. On an age-appropriate basis, help your kids understand that racism is not merely overt acts of hate; in fact, racism is an often-invisible foundation undergirding our "normal" with injustice. Help them understand that avoiding hateful words, actions, and thoughts is crucial, but it's not enough—we have to join with God and our brothers and sisters to actively uproot and heal the disease of racism in our communities. Every [person] must decide whether he will walk in the light of creative altruism or in the darkness of destructive selfishness. (MLK)
Focus on Christ. As Christians, we know that in Christ "There is neither Jew nor Gentile, neither slave nor free, nor is there male and female, for you are all one in Christ Jesus" (Galatians 3:28). In other words, all the categories the world uses to define and separate us have fallen away, and we are united by a new name, a new flag—Christ Jesus. This means that when our brothers and sisters are hurting, we hurt too. It means that our unity in Christ allows us to look hard and long at ways we have contributed to the pain and injustice, for the freedom of this new identity and the relief of forgiveness allows us to challenge our assumptions and move forward in new, spirit-filled, life-giving ways.
Reflect God's Coming Justice and Reconciliation. In the end, we know that God will reign over a world at peace, without pain, without injustice, as all God's people join in one voice before the throne in praise. Can you imagine what that will look like? How can we start living in ways that reflect that glorious justice and reconciliation right now, in our communities, today? Take some time to really think, pray, and discuss this point, for racial equality will not come through hopeful thoughts, but through hard work, work that will cost us. But this is God's good plan—what could be more worthwhile?
As Paul wrote to the Corinthians: "So from now on we regard no one from a worldly point of view. Though we once regarded Christ in this way, we do so no longer. Therefore, if anyone is in Christ, the new creation has come: The old has gone, the new is here! All this is from God, who reconciled us to himself through Christ and gave us the ministry of reconciliation…" (2 Corinthians 5:16-18)
What about you? How do you initiate and navigate these conversations in your family and church? How do you engage your children in conversations about racial equality? We'd love to listen and learn from you!
---
Looking for ways to listen? Here are a few books, all written by Christians, to get you started:
God's Very Good Idea: A True Story of God's Delightfully Different Family by Trillia Newbell (This one is for kids too! The rest on this list are written for adults).
Insider Outsider: My Journey as a Stranger in White Evangelicalism and My Hope for Us All by Bryan Loritts
I'm Still Here: Black Dignity in a World Made for Whiteness by Austin Channing Brown
Disunity in Christ: Uncovering the Hidden Forces that Keep Us Apart by Christena Cleveland
The Cross and the Lynching Tree by James H. Cone
A Sojourner's Truth: Choosing Freedom and Courage in a Divided World by Natasha Sistrunk Robinson
The Very Good Gospel: How Everything Wrong Can Be Made Right by Lisa Sharon Harper
Raise Your Voice: Why We Stay Silent and How to Speak Up by Kathy Khang
Overrated: Are We More in Love with the Idea of Changing the World Than Actually Changing the World? by Eugene Cho