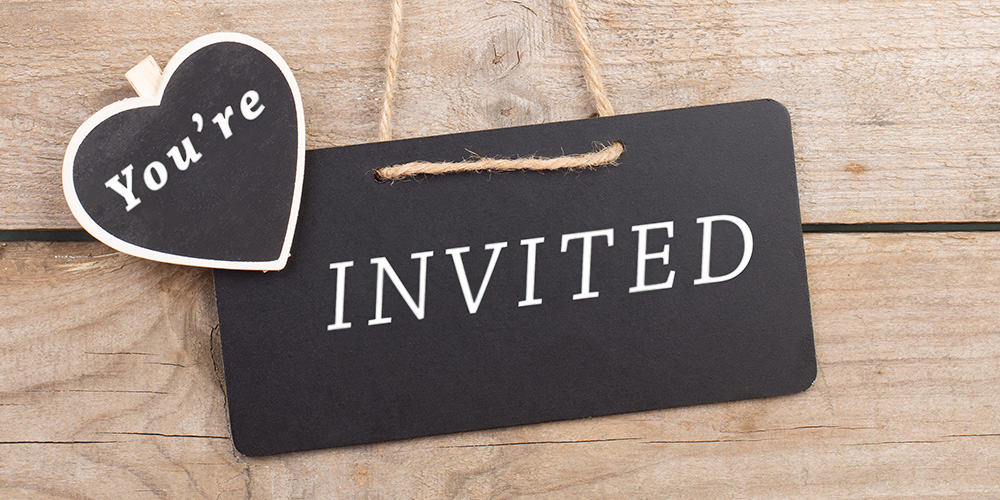 The Power of the Invite: Andrew, Peter, Jesus and Two Great Ideas to Share the Gospel in Your Club
Andrew, Simon Peter's brother, was one of the two who heard what John had said and who had followed Jesus. The first thing Andrew did was to find his brother Simon and tell him, "We have found the Messiah" (this is, the Christ). And he brought him to Jesus. –John 1:40-42
I love this passage of Scripture. It reminds me that the first time Peter met Jesus was not on the shore or during the dramatic sequence in the boat with the fish. Peter was introduced to Jesus by his brother Andrew—whom we often see bringing people to Jesus in the Gospels.
Andrew models the urgency of bringing people to Jesus. This is the original "bring-a-friend" section found in God's Word, the ultimate handbook.
There are several things we, as leaders, can learn from this passage. So, grab your favorite beverage and keep reading. Below you will find some practical tips for developing this culture in your own ministry.
Andrew Had Already Heard
It's tough to give away what you don't already have. Andrew had heard from John the Baptist about Jesus and was following Jesus. This is so simple, but also incredibly important: You, your leaders, and your kids must know Christ in order to invite others to meet him.
During your large group time have your leaders share their testimonies. Take as much time as you need for them to share the "why" behind their salvation stories. Point out that many stories begin with someone bringing them to Christ. We can stress bring-a-friend and doing the good work of evangelism all we want, but our kids need to see that we, their leaders, have taken that step of faith as well. Don't assume they know the power and passion behind why you follow Christ. Show them, tell them, and make sure your redemption story is always on display.
Andrew Found His Brother
Reading this passage, you can feel the energy leaping off the pages. Andrew is looking for his brother because he has found the Messiah.
I often wonder why Simon Peter agreed to go. Was it curiosity? Was it to prove his brother wrong? Kind of like, "Oh yeah, sure you found the Messiah. I have got to go see this." Or, perhaps Peter knew and trusted his brother, and that exchange was enough for Andrew to compel his brother towards the most important moment of his life.
I love that Andrew went and found Peter. This is the heart behind the bring-a-friend section in our Awana handbooks. Andrew knew that his brother needed to hear, see, and follow Christ. He didn't wait. He didn't save it for another time or a moment that was more convenient. The first thing Andrew did was find his brother.
Encourage your kids to seek and find those who don't know Christ and bring them next week. Foster a culture of bring-a-friend every week in your clubs.
Andrew Brought Peter to Jesus
Now, in my imagination Andrew pulls his brother to Jesus like a kid at an amusement park who is excited to show his parents something. That's probably not what happened, but who knows? Still, I love the urgency and energy. When Andrew brings Peter to Jesus, Jesus changes Peter's name.
This is such a critical moment for (Simon) Peter. I'm sure he had met other rabbis before who just passed him over. However, this was someone who took the time to see Peter and sees his future potential. Why? It all started because Andrew brought his brother to Jesus.
Sometimes it can be hard to find ways to bring friends to Jesus. We want them to have those transformational moments like Peter had. Perhaps we need some help—especially during this time of year when it's not so easy to go outside! Consider doing one or two of the activities below as you help your kids practice the art of bringing people to Jesus.
Idea #1: Indoor Snowball Fight
Have some winter fun indoors with this simple Indoor Snowball Fight game that's great for small or large spaces. This is a great way to do a little something special or fun that's invitation-worth—and it's easy to incorporate during your Game and Activity Time. Volunteers can take this opportunity to have FUN, encourage students and visitors, and even use it later as an introduction to talking about Salvation. God can make us as clean as freshly fallen snow!
Things you will need:
• Floor Tape
• 8 medium-sized containers (tote boxes or shoeboxes)
• 20-40 pairs of white tube socks (if you want, ask kids to bring in a pair to donate later)
• Music (winter-themed)
Directions:
1. Use tape to divide your room into two sides.
2. Roll up each tube sock individually to make "snowballs."
3. Fill each container with an even number of snowballs.
4. Put four containers on each side of the room. Spread them out so kids can reach them easily.
5. Divide your group into two teams, one for each side of the tape.
6. Tell kids to wait for the music. When it starts, they can throw the snowballs at the other team! When the music stops, so do the snowballs.
7. You can do variations on this with a "Gladiator Obstacle Course" while kids are trying to miss a snowball hit.
After the game is over, gather the socks and donate them to a local shelter. Tell kids that they'll help keep someone warm this season.
Idea #2: Winter Carnival
If you are looking to do an outreach event try offering a Winter Carnival. We can all use something to look forward to during the wintertime. It's simple to run:
• Assign volunteers to different activity stations. Games can include reindeer-ring toss, winter-themed crafts, or your favorite "minute-to-win-it" icebreakers. Also, try the fun snowball fight game from above. Our Pinterest page has many great ideas as well!
• Create seasonal backdrops for your booths. Paint a winter scene on a large piece of paper or cardboard, and add cotton balls for a 3D snow effect. String white lights on archways at the entrance. Lay fluffy white batting on the floor around each booth like piles of snow.
• Have fun snacks: popcorn, snow-cones, even simple cookie decorating.
• Give out Awana prizes such as stuffed toys, or items like the Lighted Wrist Band and Lighted Yo-Yo. Simple ring pops are always a hit.
• Finish the day with a brief message from your pastor. Share the gospel message, thank attendees and volunteers, then invite visitors back for church.
Jesus Followed Up
Matthew 4:18-20 says, "As Jesus was walking beside the Sea of Galilee, he saw two brothers, Simon called Peter and his brother Andrew. They were casting a net into a lake, for they were fishermen. 'Come, follow me,' Jesus said, 'And I will send you out to fish for people.' At once they left their nets and followed him."
We can create a culture that invites people to come and meet Jesus, but good and effective discipleship always follows up. Every kid in your ministry needs a follow-up conversation. Jesus just didn't change Peter's name, make him feel good, and that's it. He called him to be one of his disciples. Follow me! Don't leave anything to chance or an invitation to ambiguity. Be intentional with every friend that's brought. Follow the example of Jesus and Andrew. Bringing friends to Jesus is an essential part of the discipleship DNA of Awana.
We hope that your Awana ministry continues to be a place where children come to know, love, and serve Jesus Christ. Make space in your ministry and during your club night for you and your disciples to invite those who don't know our Lord. Be known, and make Him known.
-Chris Marchand and Julie Vander Ark