Planned Giving and Stocks + Charitable IRA Rollover
Planned Giving and Stocks
We have developed a comprehensive program to assist you in charitable estate and gift planning. We offer knowledgeable advice and will work with you and your professional advisors to design a plan that is advantageous to you. We can provide you at no obligation, brochures on gift planning opportunities and personalized illustrations outlining a variety of tax-saving benefits. We have provided information on several topics and we invite you to explore our website, all designed to make it possible for you to provide and protect for your loved ones and ministries important to you. Any conversation would be strictly confidential. We'd be happy to help. Please contact us at (800) 22-AWANA.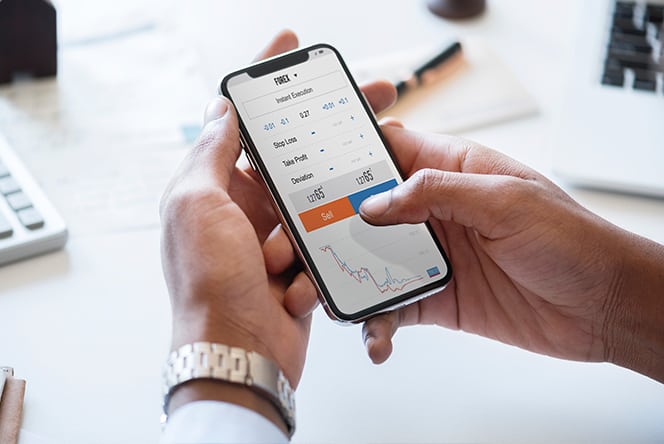 Online
Gifts of cash can be given to Awana Clubs International by credit card by clicking on the Donate button below. Recurring monthly gifts by credit card is an option available when setting up your donation on our website.
Bank Draft
Automatic monthly gifts through bank draft is available through electronic funds transfer.
By Mail
You may also mail a check, money order, or cash equivalent to:
Awana Clubs International
Attn: Donor Development
1 East Bode Road
Streamwood, IL 60107
Please do not send cash in the mail.
You can make a gift of securities to Awana by wire transfer, mailing stock certificate(s) or hand delivering stock certificate(s). Call Jeff Schacherer, Director of Financial & Estate Planning Services, at (847) 846-6921 with any questions.
WIRE TRANSFER STOCK to the account of Awana at EDWARD JONES.
Call your broker. Let him know that you would like to transfer stock to the account of Awana at EDWARD JONES. Instruct the broker NOT to sell the securities. Also tell your broker the kind of stock and number of shares you would like to transfer and have him contact Mike Dyer or Tamra Sengstock at EDWARD JONES at 630-836-8988. (Fax: 866.441.6558; Internet: Click here for Mike' website.)

Information for your Broker: DTC #0057 and Awana Account #205-06700-1-3
Account Registration Name- Awana Clubs International

Contact Jeff Schacherer, Director of Financial and Estate Planning Services, at (847) 846-6921. This helps us credit your gift correctly when the transfer is complete. The value of your gift is the mean price of the stock as traded on the date you deposit it to our account.
MAIL STOCK CERTIFICATE(S)
Mail unsigned stock certificate(s) to Awana. Some individuals send the certificate(s) by certified or registered mail with return receipt. This is not required but recommended for your protection.
In a separate envelope, send a signed stock power, one for each issue (not certificates) of securities given, which transfers ownership of the stock to Awana. Please note that Edward Jones requires for you to get a signature guarantee (from your bank) when you sign the attached stock power that should identically match the name or names printed on the stock certificate.If not automatically populated, please enter the Awana Account number: 205-06700-1-3, the Branch number: 22179, and the Financial Advisor number: 451507. You do not need to fill out the rest of the information on the stock power. Along with the signed stock power(s), please include a letter with the following information that Awana will mail to its broker:

"Enclosed is # of shares of stock(s). I am making a charitable contribution of this stock (or stocks) to Awana. (Please list designated purpose, if any.) Please consider this letter and the appropriate stock power your authority and direction to transfer the shares into the Awana Clubs International Account"

Your gift will be valued at the mean price as traded on the date of your postmarked envelope. Gifts of securities may be mailed to the following: Awana Clubs International, Mr. Jeff Schacherer, Director of Financial and Estate Planning, 1 East Bode Road, Streamwood, IL 60107-6658.
Please note that if the amount of the stock is valued at $5,000 or above an additional "Letter of Authorization" is required. Simply contact Jeff Schacherer at (847) 846-6921, for this form to be mailed or emailed to you for your signature only. We can fill out the remaining information.
HAND DELIVER STOCK CERTIFICATES
Complete steps 1-3 as detailed under "MAIL STOCK CERTIFICATE(S)."
Please give stock certificate(s) in person to Jeff Schacherer or Mary O'Brien at Awana headquarters, 1 East Bode Road, Streamwood, Illinois, 60107.
The day you deliver the stock to us will be the date of the gift and valuation.
A donor advised fund is a fund commonly at a community foundation that distributes funds to ministries such as Awana. You can open one with a written agreement between you and the organization that gives you (or other family members) the right to recommend that distributions (i.e., grants) be made from your fund to Awana.
One caveat: You cannot direct distributions. You have the right only to make recommendations regarding how much, how often and to which charities. Most donor advised funds will follow your advice if it is consistent with the fund's objectives and the selected ministries are qualified charities.
Once you have created a donor advised fund, you can:
Click on Example 1
At any time, make contributions to your fund, which are invested by the sponsoring charitable organization, which then provides a regular accounting to you.
Recommend that various amounts be distributed to qualified charitable organizations of your choice.
Receive an income tax charitable deduction for gifts to your donor advised fund. You receive no further tax advantage, however, when grants are made from the fund to other charitable organizations.
Most donor advised funds allow you to start a fund for $5,000 - $10,000, although additional contributions may be less.
Your Major Benefits
Convenience and timing: You can take a tax deduction now—when you make a gift to the fund—without immediately having to choose the ministries you want to support.
Simplicity: You can support a number of qualified causes and centralize your giving without having to retain records for separate contributions.
Expertise: You can take advantage of the staff's expertise to research which programs you want to support.
Family philanthropy: Families can build a tradition of giving and teach their children the value of philanthropy by involving them in the decisions about which grants to recommend. Plus, you can name your children as the next generation of fund advisors to carry forward a true legacy of giving.
To learn more about this way to support Awana International, please contact Jeff Schacherer, Director of Financial & Estate Planning Services at 1-800-22-AWANA, option 1, or by calling 630-540-4556 or email jeffs@awana.org.
Business ownership could provide you with an opportunity for giving that you may not have realized. You can gift a portion of your business to Awana each year and receive a valuable income tax deduction. This deduction allows you to keep more money in your own pocket—money which can be used to reach your personal or family goals, or for additional charitable giving.
How could it work for you? You can contribute shares of your business with a value of 30% of your Adjusted Gross Income (A.G.I.). (This might represent a 2% or 3% share of your business.) The 30% A.G.I. is the maximum amount of appreciated property you can donate and write off in a given year.
Without giving up control of the business, you can give a percentage of the business to ministry and receive an income tax deduction each year. Tax savings are immediate by reducing quarterly estimates. Improved cash flow can be used to reinvest in the business or to create new, current gifts to your ministry projects. This creates yet another tax deduction.
A typical example: Mr. Jackson owns a business worth $5 million, has an A.G.I. of $350,000, and is in the 33% tax bracket. He can donate $105,000 of his business, which is a 2% interest. He receives an income tax deduction of $105,000 thus reducing his income tax liability by $34,650.
When the business is sold, the charity would receive cash for their interest in the business. Capital gains taxes would be reduced to the extent that a portion of the business has already been given away. If one desired to keep the business in the family, the family could buy back that portion of the business from the charity.
The gift of a portion of a business could be an additional means for you, as a business owner, to improve your tax position, enhance your overall stewardship and obtain additional resources to further your personal and charitable goals.
To learn more about this way to support Awana International, please contact Jeff Schacherer, Director of Financial & Estate Planning Services at 1-800-22-AWANA, option 1, or by calling 630-540-4556 or email jeffs@awana.org.
Charitable IRA Rollover
Charitable IRA Rollover Now you can reliably plan charitable IRA rollover gifts, year after year. On Dec. 18, 2015, the president signed legislation indefinitely extending the charitable IRA rollover, making it retroactive to Jan. 1, 2015, with no expiration date.

Read below for answers to frequently asked questions about this popular option. Feel free also to call Jeff Schacherer, Awana Director of Financial & Estate Planning at 847-846-6921 or email him at jeffs@awana.org to learn how the charitable IRA rollover provision can help you support Awana and reach MORE KIDS for Christ!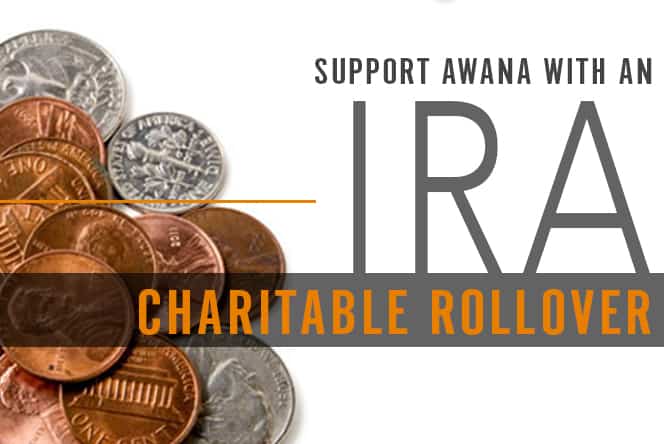 What is a charitable IRA rollover?
The charitable IRA rollover, or qualified charitable distribution (QCD), is a special provision allowing certain donors to exclude from taxable income -- and count toward their required minimum distribution -- certain transfers of Individual Retirement Account (IRA) assets that are made directly to public charities, including Awana Clubs International.
Since it was first made available in tax year 2006, donors age 70 1/2 or older have used this popular option with tax-wise gifts ranging from $100 to $100,000.
A charitable IRA rollover makes it easier to use IRA assets, during lifetime, to make charitable gifts.
Why will lifetime IRA gifts be easier?
Under current law, withdrawals from traditional IRAs and certain Roth IRAs are taxed as income, even if they are immediately directed to a charity. The donor receives a tax deduction for his or her donation, but various other federal, and sometimes state, tax rules can prevent the deduction from fully offsetting this taxable income. As a result, many donors have chosen not to use IRA assets for lifetime gifts. The charitable IRA rollover eliminates this problem.
What gifts qualify for a charitable IRA rollover?
A gift that qualifies, technically termed a "qualified charitable distribution," is:
Made by a donor age 70 1/2 or older
Transferred from a traditional or Roth IRA directly to a permissible public charity, such as Awana Clubs International (If giving in this manner, please tell your broker or fund manager to name you as the donor on the transfer, and if your gift is intended for a particular area of the U.S. or world to specify that as well.)
Completed during the applicable tax year
Is there a limit on the amount that can be given?
Yes, there is a limit. An individual taxpayer's total charitable IRA rollover gifts cannot exceed $100,000 per tax year.
What about the required minimum distribution?
If you have not already taken your required minimum distribution in a given year, a qualifying rollover gift can count toward satisfying this requirement.
Is an income tax deduction also available?
No. The gift would be excluded from income, so providing a deduction in addition to that exclusion would create an inappropriate double tax benefit.
Why are Roth IRAs included? Aren't withdrawals from a Roth IRA tax-free?
Withdrawals from a Roth IRA may be tax-free only if the account has been open for longer than five years or if certain other conditions apply. Otherwise, withdrawals are taxed as if they came from a traditional IRA. Therefore, certain Roth IRAs could benefit from a charitable IRA rollover.
Can other retirement plan, such as 401(k) and 403(b) accounts, be used?
No. However, it may be possible to make a tax-free transfer from such other accounts to an IRA, from which a charitable rollover can then be made.
Who can benefit from using the charitable IRA rollover to make a gift?
Persons with significant assets in an IRA
Persons making gifts that are large, relative to their income. (Because a charitable rollover is not included in taxable income, it does not count against the usual percentage limitations on using charitable deductions.)
Persons having so few deductions that they choose not to itemize
Can I still make a gift with an IRA beneficiary designation?
Absolutely! Whether or not you choose to make a charitable IRA rollover gift, you can still designate Awana Clubs International as a beneficiary to receive IRA assets after your lifetime. The lifetime charitable IRA rollover is simply another option for donors who would like to see their philanthropy at work now.
Contact Jeff Schacherer, Awana Director of Financial & Estate Planning at 847-846-6921 or email him at jeffs@awana.org. As with any gift planning question, donors should consult their tax professionals for specific advice.