Puggles® recognizes the learning ability of 2- and 3-year olds by introducing biblical truth at church and equipping parents to teach them at home.
New! Puggles Big Truths CD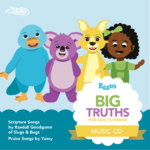 Also, coming in July! Introducing new fun Scripture memory and Worship Music for your preschoolers! Scripture songs by Randall Goodgame (of Slugs and Bugs) and Praise music by Yancy! Includes Puggles Big Verses songs. Great for leaders and parents! Listen to the sample playlist below.
Maximize the impact of the games you play with Puggles and Cubbies! This book contains a helpful variety of new and time-tested game ideas and suggests related lessons for each game.
Connect with Awana Preschool