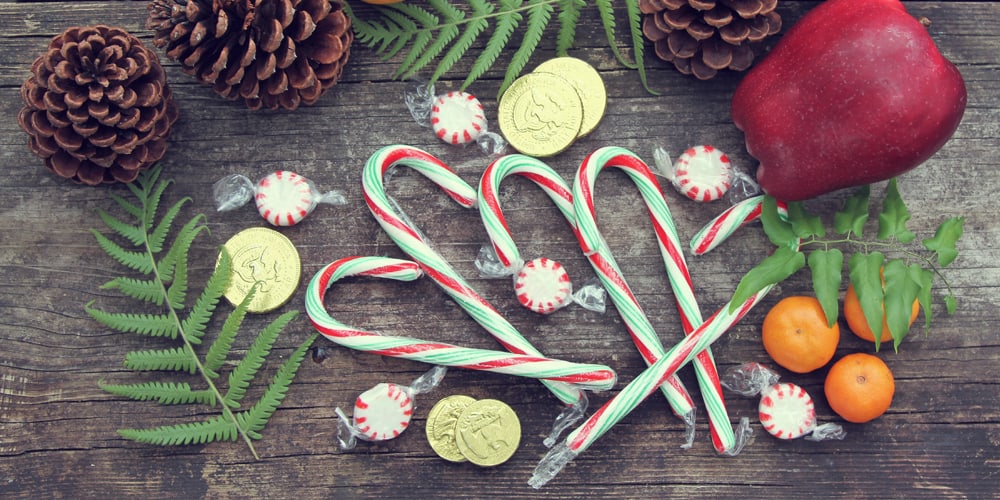 Santa Claus, Jesus, St. Nicholas, and Me: A Tale of Two Christmases
If someone from another planet landed in Downtown, USA in mid-December, he or she might suspect that two very different holidays—both called Christmas—were being celebrated.
One Christmas is a frenzy of shopping, toys, and sugar-highs. The central character is a jolly old man named Santa Claus who magically gives children whatever they want. As a parent, I can attest that this holiday is incredibly exhausting. Shopping and wrapping and budget-crunching aside, it's a herculean effort to keep greed, materialism, and entitlement from taking center stage.
The other Christmas, ironically enough, begins with four weeks of quiet reflection and waiting, and culminates in a feast celebrating that God came to earth, putting aside all He was entitled to, becoming a vulnerable infant, born in the poorest conditions to an oppressed people in an occupied country. The celebration insists that light always comes to dispel the darkness (John 1:1-9), that God's justice will have the final word in a world riddled with injustice (Luke 1:46-56). As a parent—and a person—I can attest that this holy season is the single most beautiful, life-giving, soul-forming reflection in my life.
Both Christmases are nice. But in so many ways their underlying messages and traditions are not only in conflict but mutually exclusive. Can I be both frenzied and reflective? Do my children practice getting what they want or letting go of what they have? Far too often consumerism, greed, and weariness blind us to the greatest gift—the gift we are invited both to receive and pour out.
What is a Christ-loving family to do with both Christmases vying for our limited time and attention?
Some families forgo the Santa Claus Christmas entirely—an understandable if disappointing choice for kids whose friends are making their lists and checking them twice. Other families try to celebrate them both—a fun if exhausting choice for the parents juggling those lists.
I've recently been inspired by a third option: celebrating Santa's more historically accurate alter ego, St. Nicholas. I've found that doing so enhances, rather than competes with, the celebration of Jesus' birth.
Most of us know that the jolly old elf we call Santa (who, we eventually grow up to learn, doesn't actually exist) is based in historical fact. Not only was the man named Nicholas historical, he was devoutly Christian as well. Nicholas was a church bishop, and later canonized as a saint (hence, Santa).
Born in Greece in the third century, Nicholas was raised both Christian and wealthy—but his parents died when he was very young. Nicholas combined both his financial and spiritual inheritance by taking Jesus literally when He said, "Sell all you have and give it to the poor." Soon, Nicholas was known throughout the land for his radical, self-giving love of the poor, sick, and vulnerable.
Unfortunately, following Jesus was a crime under the Roman Empire, and such obvious acts of devotion (giving away your possessions to care for those in need, in Jesus' name) put Nicholas in danger. He suffered greatly for his service and gifts, yet he would not be stopped. He would give, and love, and care, and serve—in secret, under watch of night if necessary—but give he would.
December 6th is "the Feast of St. Nicholas" on the Christian calendar, and many countries around the world set aside this day to remember his love for God and neighbor. Especially in European countries, children will set out their stocking or shoes, hoping that St. Nick will pass by and secretly leave a coin, a gift, a poem, or a treat. Children sometimes set out carrots or hay for his horses, and snacks for the saint.
There's nearly two thousand years of imagination standing between the historical Christian man giving away his possessions to those in need under threat of imprisonment, and a magical man with reindeer who comes down your chimney to give you whatever you want. Both stories are fun for parents and kids, but there are a few things I love about this more historical story:
First, it focuses on the man who embodies the true story of Jesus' birth. The historical Nicholas lived his life pouring out the radical love of Jesus on anyone who needed it. Whether that left him poor or in prison was not important—he emptied himself for others in order to love God and his community. This is precisely the sort of story our kids (and us too!) need to meditate on as we contemplate God-With-Us.
Second, the gifts received on St. Nicholas Day are small enough to enhance, not overpower, the message. You can't fit an Xbox into a sock, but you can place words of care or identity-formation onto a card that fits nicely. A small-but-meaningful gift can be tucked into a shoe—and remembered years later not because of the price tag, but because of the significance.
Third, St. Nicholas Day falls on December 6th, which is 19 days before we traditionally celebrate the birth of Jesus. By observing this day, my kids get all the fun of stockings and reindeer and surprises from jolly St. Nick, and still have plenty of space in late December to focus on the baby who brought true light to the world.
Don't get me wrong, there are still an overwhelming number of brightly wrapped gifts under the tree on December 25th. We still sing about elves and sleighs and reindeer on rooftops, but we've begun and ended the season with a reflection on giving, and how Jesus laid down His life and privilege for those who couldn't earn or deserve it—and calls us to do the same, no matter what the cost.
However your family chooses to balance the stories and celebrations of Christmas, here are some ideas to consider:
Emphasize Giving: Kids can make "Gifts to Give" lists as well as "Wish Lists." Children love to surprise and love on others, so use this to build the joys of giving into their character.
Look Outward: December is such a busy time, and most adults barely survive the to-do lists. But there might be ways you can reach out without adding more activities. Perhaps invite neighbors without local grandparents to join you in a favorite tradition, or include an immigrant family in your Christmas Eve dinner party. Who, outside your inner circle, needs love and inclusion this season? How can you reach them as a family?
Find Role Models: Like Saint Nicholas, there are men and women in history who remind us that true joy (and often suffering) comes when we follow Jesus' radical command to love those around us, neighbor and enemy, no matter who they are or what it costs us. Read about Nicholas' life, and collect other biographies of men and women (or boys and girls!), from history and present day, who have found a way to love like Jesus.
What about you? What are your favorite holiday traditions? How do you balance the "two Christmases?" We'd love to learn from you!