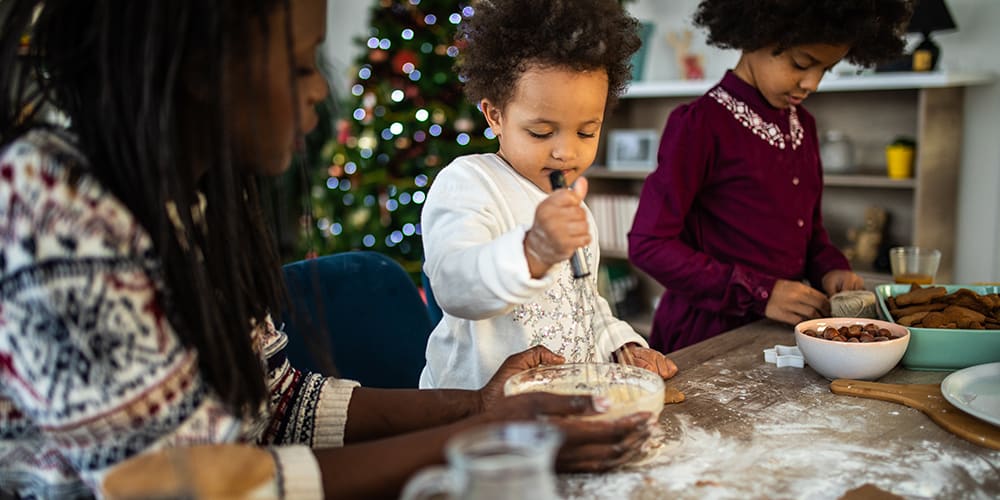 Families: Christmas Break Is a Team Sport
That Familiar Panic
For many families, the holidays bring a sense of relief and delight as we break from our routine for a few weeks to enjoy time together. There is usually less structure to our days and more fun activities. However, even the most organized parents I know (much more organized than I am) have expressed a little bit of panic before Christmas break. They know how this change in routines brings about potential chaos, meltdowns, and disagreements. Despite this (and maybe more than anything else), we all yearn for the extra time the holidays provide to point to Jesus to impact our families positively. But how do we accomplish this occasionally monumental task?
Christmas Break Is a Team Sport
Here's a way to think about Christmas break this year: It's a team sport. This idea sounds weird, but even those of us who aren't sports people can look at something like a sporting event on TV and see some basic things at work. Just like a team sport takes significant effort and involves interaction between people, so does successfully surviving Christmas break. We can take some observations we can make about aspects of engaging in a sport to help us navigate our holiday season as well.
Keep the Point Of the Game in Mind
Athletes on the field need to know the point of the game they are playing. This knowledge helps them stay focused on the goal. For Christmas break, what is our goal? Our primary goal remains the same as always: to love God and love others well. This purpose guides the way we live. And at Christmas time, we're able to reflect on this in all kinds of ways, but for our families to remember this is key. Christmas is about Jesus, and how He entered this sinful world as an act of love. Any love we have for God is always a response to His love for us. When your family remembers the goal, it can give perspective to that meltdown in the middle of the store and can help get you through.
Stay on the Same Team
All the athletes might not get along, but they have much bigger problems if they forget that they are on the same team. In our family sometimes we encounter more significant problems as well when we forget we are teammates. Let's remember parents and kids are working together. Especially in (or even before) the crazy moments that sometimes come up during Christmas break, stop and remind each other: "We are all on the same team!" Honestly, in my family we have to stop and say this a lot, especially in stressful times. Even bigger than this, we are on God's team together, and that becomes important in how we handle the daily struggles of life.
Have a Game Plan
Remember those goals you thought about while reading the section above? A game plan is how we will accomplish our goals: those important things like loving God and others, and celebrating Jesus at this special time of year. When you look at the days stretched ahead of you in your Christmas break, what do you already have on the calendar, and how can you set your team up for success in those things? What else does your team need to win at loving God and loving others? It doesn't have to be elaborate. Could you need more rest? More intentional time? A moment in Scripture together? More community? Whatever it is, have a game plan for how to get there, and make sure it is simple and achievable. You want to be able to look back and see that your game plan helped you win.
Take Some Time on the Sidelines
As you can, take breaks by yourself during the busy times, and sideline yourself to be rested by seeking God through His Word. You can also invite someone else from your family to take a break with you. Great moments for teams can happen not only on the field but while they are on the sidelines with each other as well. When you are looking at the time your family has, make the most of the times where you are one-on-one with individual members. Whether it is in the car on the way to something or while you are home, use these times as ways to rest from the intensity of the full team family experience and to love and deepen relationships with each other.
Involve Your Fans
Just like in a sports game, the fans can make a difference. When they cheer, it can impact the team. Who are the fans for your family? Maybe this includes relatives or friends, but it also should consist of some other people: those in your church. As you think through the upcoming weeks, how can you be intentional not just to participate in your church but to involve people in your church as a positive influence on your family? Maybe this involves asking specific people to pray for you, making intentional time with a family in a similar stage of life that you've seen around the church but never gotten to know, or even to invite someone to your home that you feel would be a positive influence on your family. Let others be fans for your family, and be a fan for the other families in your church too.
Let's Win!
There's certainly no perfect way to go about achieving a great Christmas break, but let's all in our own way approach the team sport of the holidays ready to win on the important things: loving God and each other well, and using this season to celebrate Jesus' birth!
---
Awana equips families and leaders around the world with biblical evangelism and discipleship solutions so that today's children may become tomorrow's Christian leaders, in every aspect of society and culture. For more information, go to awana.org.