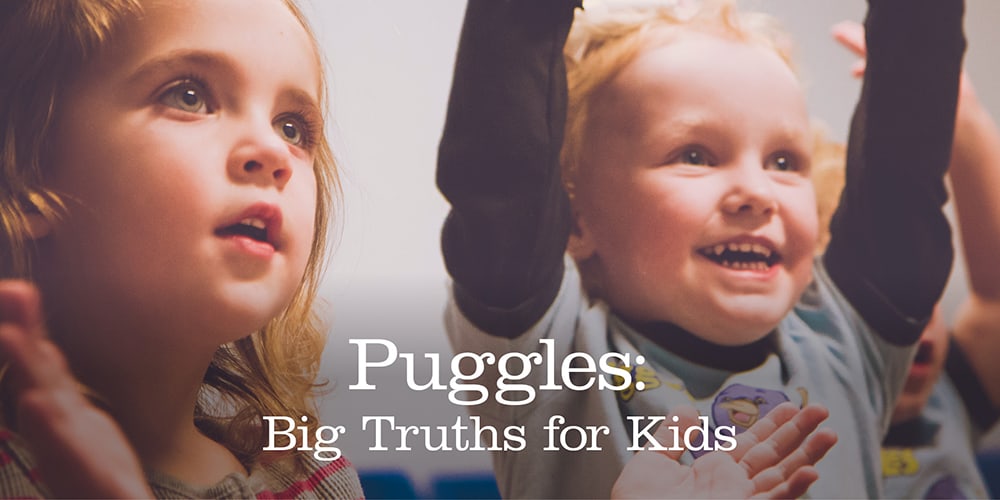 Puggles: Big Truths for Kids
If you had to pick only four biblical truths that a young child would be able to hold onto for the rest of his or her life, what would they be?
The Puggles program is based around the idea of creating a foundation of faith in the lives of young children by introducing and reinforcing key truths from Scripture. This is accomplished through simple lessons that involve communicating these ideas in a playful and age-appropriate way.
This coming year our team is hard at work going through an update of the Puggles program to adapt and enhance the learning experience we provide for our very youngest Awana kids. As we take what currently exists, we ask ourselves, "Is this the best way to say this? How can we point kids to Scripture with this lesson? How can we make teaching this material easy to use for our leaders and parents? How can we help instill the best first impressions for these children of God, His Word, and the faith community that they are part of in their Puggles group?"
The Puggles program has continued to bless children and their families since its release in 2007, at which time one big question was, "What is a Puggle?" We still get this question a lot! So, in case you don't have a background in zoology or haven't been around a Puggles program, a puggle is the name for a baby platypus. They actually aren't quite as cute-looking as we make them in our illustrations, but we named this program after the name of a baby animal because it only seemed fitting, seeing as it is designed for our very youngest ones. But, as you know from your interactions with kids in this age range, their youth doesn't mean they can't take on big truths about who God is and how this matters to them. For these children, their intense curiosity and awe of the world around them give us great avenues into learning!
If you have any great stories or insights regarding Puggles or communication regarding this update, let us know at puggles@awana.org!